How to set up an event on WhoToGoWith
A step by step guide to setting up your event, promoting on social networks to your audience, as mobile app or as web app, managing the event and exploring the data.
Question:
What does it cost?
Answer:
Creating an event on WhoToGoWith costs a fixed $5 fee per 30 days, for all types and scales of events. When you set up an event, you subscribe for a $5 per month payment, which stops automatically after the event has passed. If the event is recurring, you'll have to edit the event each time and modify the date to the next event, and the payments will simply continue monthly. At this point, we do not charge anything more than that. We are still researching the market and figuring out how to price the service based on performance and results.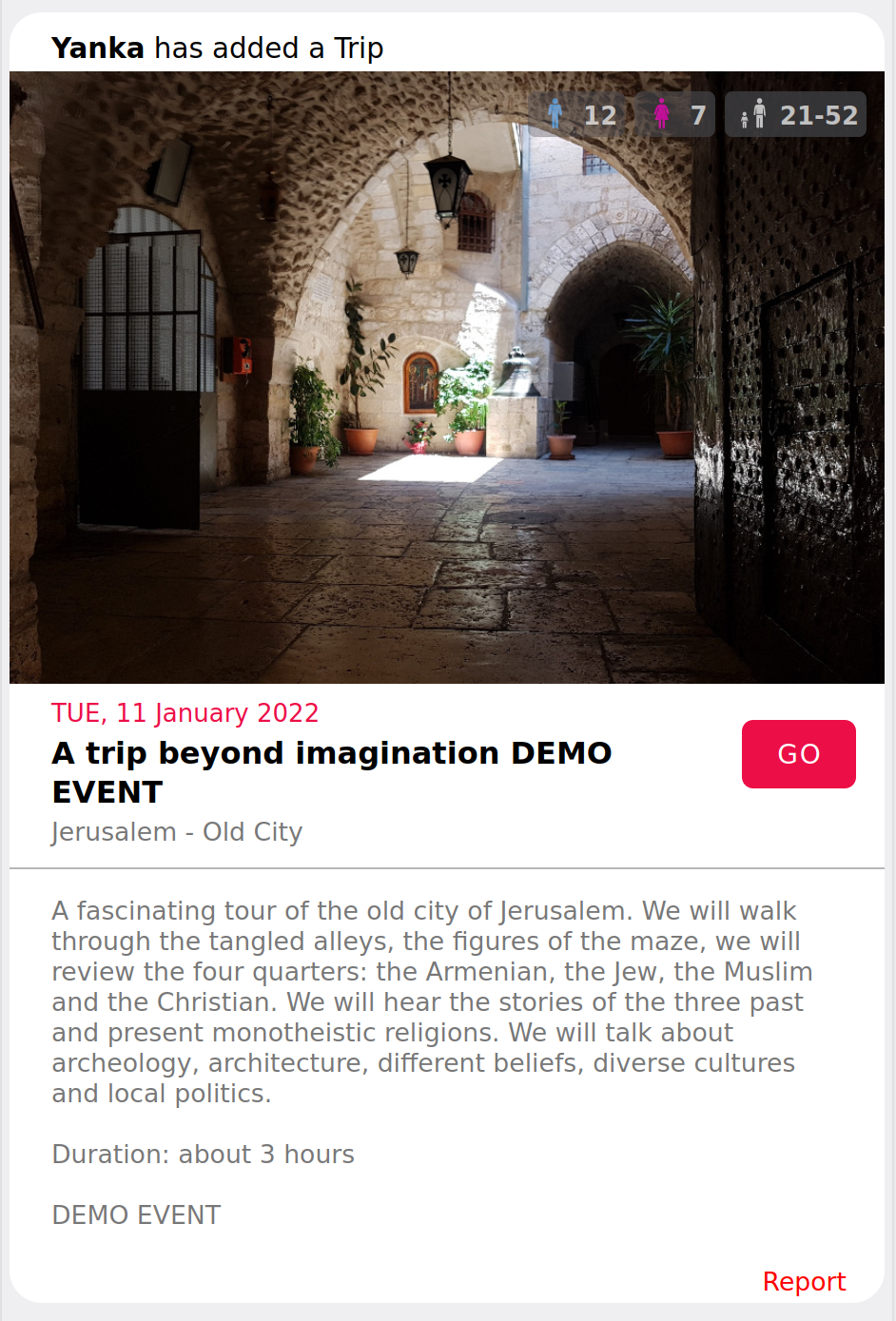 Your first step
Your first step as event organizer is to go to the "Sign Up" screen, and register with either email or Facebook.
Next, you'll need a minimal profile, enter your name, and this will be the only personal detail that your guests will know about you when they see your events.
You'll also be required to fill in other stuff like your date of birth, location, gender, bio (not mandatory), and criteria of gender and age range of the partners you're looking for. This information will only be relevant if you'll be a guest on events you're not the organizer of. Otherwise, fill anything just to move on from this screen.
Now you can get to the "Events" screen and click the "CREATE AN EVENT" button. You'll see a popup window with some explanations about the $5 fee, short agreement, and the benefits of using WhoToGoWith as an event organizer.
Click the "START" button to move to the "Edit Event" screen. Here's you'll enter your event name, location, start date, type (choose from the list or select "other" and write your own description), and about text.
The next part of the screen is concerning interaction with the users. Here you can decide whether to disable the chat, decide that you want to see the likes and matches (users will be notified of this transparency), opt to make silent matches in this event (users will not know when they match - only you would), decide to show or hide the stats (how many men and women are going, and their age ranges) and choose whether the event is moderated or anyone can join.
The next step is to get authorized by our team of moderators. Out moderators team ensures the event follows our community guidelines, and can help organizers create the most tempting event listing.
After the event details are approved, the $5 fee needs to be paid for the event to be published. Now is the time to share the event with your invitees.
Event link, and event name.
There are 2 ways to find an event on WhoToGoWith. One is to search for it on the website or app, using the event name or a text that appears in the description. The other way is by direct link. As organizer, you'll find a link to the event that you can share on social networks. If someone already has WhoToGoWith app installed on their phone, the app will open and the event will be displayed. If not, the web version of WhoToGoWith will open in browser and the event will be displayed, even if the user is not yet registered on the platform.
User's experience
User's first impression of WhoToGoWith and the flow of their interaction. When someone is not registered on our platform, and opens a link to an event in the browser, they see the event screen, with all the details you've entered when creating the event. Once they click "GO" on the event, they are referred to the "Sign Up" screen where they enter their name as it appears on the app, their email and a password. They can also register with their Facebook account instead of filling their name, email and choosing a password. Now that they're registered and signed in, they are referred to the "Edit Profile" screen, where they are asked to provide the following:
1. Pictures (From camera, gallery or Facebook)
2. Name (already provided on the register screen or from Facebook)
3. Location
4. Date of birth
5. Gender
6. About (whatever they want to write about themselves)
7. Gender and age range of the partners they want to meet
Once the profile is ready, they can switch to the "Events" screen. As this is the first and only event they have under the "going" section, your event will open and show. The user can again read about your event and see the pictures you've uploaded, as well as see how many people of each gender are going, as well as the age ranges of the guests already registered. Now they click "Discover who to go with" and are transitioned to the event's dating arena, where they can go over all profiles which are relevant to their defined gender and ages criteria. They LIKE or NAH each profile, and when there's a match, they can start chatting. Matched couples that want to go together can turn the "Going Together" switch to show each other they're serious about going together. Each person can only turn that switch with one partner per event.
The whole process, in short:
1. Users connect via Web or Mobile App
2. Click a link or search for the event
3. Register
4. Create a profile
5. Click "Discover who to go with"
6. Go over all relevant profiles, "LIKE" or "NAH" on them
7. Get matches
8. Chat with their matches
9. Decide with whom they're going together (they must choose one from the matches to get to step 10)
Promoting your event
Now it's time to reach out to all your invitees and let them know that you've created a dedicated match making arena for them. Promote the direct link of the event, and also tell your audience they can find your event by searching for it on WTGW.
Statistics
As your guests sign up and start interacting with each other, you begin to see statistics such as how many single men and women want to go to the event, they're age range, how many profiles were seen, how many matches, conversations, messages and "going-together"s there are.
Notifications
Your guests will receive push notifications and emails whenever:
1. someone liked their profile when they were gone
2. they matched with someone
3. they receive a message
Communicating with your guests
WhoToGoWith allows you to write messages to all your guests or to specific chosen ones.